Report of Marlene Eltschig (Dharmadakini)
It is now about 13 years ago that I met Geshe Sonam Palzang. But the impression, which it left with me, did not fade. Perhaps it is particularly in the review for me still more amazing, how much it really moved for the nuns.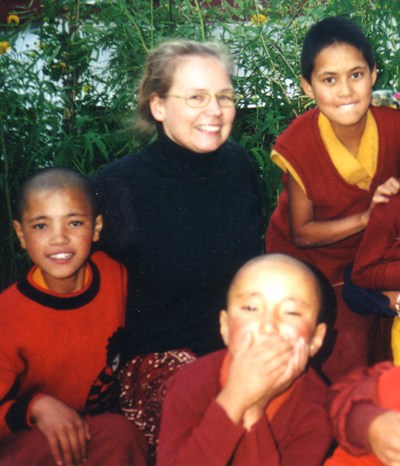 Looking back, perhaps it is particularly amazing for me was , how much he had really changed things for the nuns. If one has driven 15 hours through the mountain deserts from Ladakh with the bus and then unexpectedly lands in a garden, in which a maintained library with philosophical and Buddhist books is, then it can seem like a miracle. But if one looks back on ones own life over a period of 13 years to see what one has done for others, and compares it with what Geshe Sonam Palzang has achieved in one of the poorest regions of the world, in a much shorter time, it is nearly unbelievable.
What I really admire in Geshe La, is his never ceasing energy for the good and his modesty. Instead of being satisfied with his high academic degree and staying in a comfortable job teaching advanced students at the university, he rolled up his sleeves to use a hammer on the nunnery building site. In addition he took it upon himself to work with the less well regarded and uneducated nuns, teaching them so well, that it was noticeable that they could recite far better than the monks from the tiny neighbouring gompa. Geshe Sonam Palzang is to today an important role model for me, an unusually altruistic person and a person I will never forget.
Report of Elizabeth Pankhurst (Jayaprabha)
When I went to visit Wakhah Jangchup Choeling Nunnery in 2001 it was noticeable to me, how beautiful it was, brightly painted and with lots of flowers (watered daily by the nuns), which gave the feeling of being an oasis in the middle of the dusty desert, which it actually is.
I loved to listen to the nuns singing their Tibetan prayers and particularly the youngest, who sang and used their musical instruments with such joyful enthusiasm each day before and after school.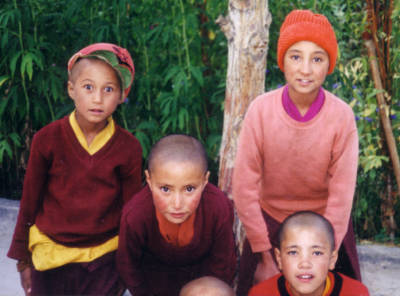 They receive a normal education as well as their buddhist training and discipline too, but in an affectionate and caring family atmosphere, the older nuns also caring for the young ones. The children obviously love the Geshe, who still has time each year for the nunnery even though he now has a far away position as an abbot of a large monastery in Southern India.
There are political tensions in Ladakh and the situation for the Ladakhi people is not without it's dangers. I am very very happy that I was able to meet Geshe Sonam Palsang and his monastry of nuns. To experience first hand how he was dedicating his life to these poor people and the nuns who joined with him in making us feel so welcome. I left with the resolve to help the Geshe in his work in any way I could.
Report of Markus Hoffmann
In the Autumn of 2001 Elizabeth Pankhurst and Marlene Eltschig talked in a Buddhist centre in Berlin about their experiences in a Ladakhi nunnery. After that I so dearly wanted to meet the Geshe Sonam Palsang and was able to during my first India journey in the winter of 2001/2002 I visited a Monastry in Mundgod in South India, where the Geshe regularly taught the monks.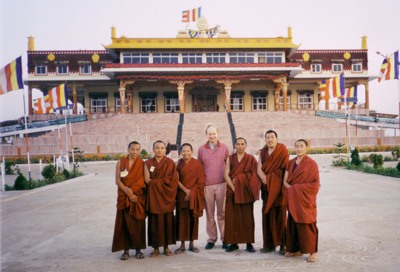 I arrived when this huge, newly built temple was being dedicated by the Dalai Lama with a ten-day seminar. I changed from being a backpack-traveller the moment I met Geshe Sonam Palsang. He carried my luggage himself and made sure that room was made for me in the crowded temple. I was particularly touched by an immediate sense of his natural willingness to help. At the same time I didn't get the impression that he was demanding the same from his monks, more that he was a living example. Even though I haven't visited the Wakhah Jangchup Choeling Nunnery personally, I feel connected to it through Geshe Sonam Palzang's letters. Even so, on my next visit to Asia, a visit there is on top on my list.