Photos and report from 2008 taken by John Fraipoint - click here.
It is a tradition amongst Tibetan people to give one of their children up to live in a monastry. In a land where cars are a luxury, a few straggly goats, harsh winters which cut communities off from their neighbours for 6 months of the year, this is often seen as a possibility for children to receive an education and
where an important part of their original culture is preserved. Even though conditions in the nunnery are also quite simple and basic, it is here that they learn cultural practises as well as to speak and write their own language (both lacking in normal Ladakhi schools which have been integretated into the Indian system). It is also here that the nuns learn to live an ethical religious life, something which has been an integral part of Tibetan culture and which has long since been lost in Tibet itself since the Chinese invasion.
Wakhah Jangchup Chosling Nunnery
The monastry for nuns Jangchup Chosling Monastry follows the Gelugpa tradition of tibetan buddhism. The spiritual leader of the nunnery is Ken Rinpoche Sonam Palsang and the nuns' ages range between 4 and 20 years old.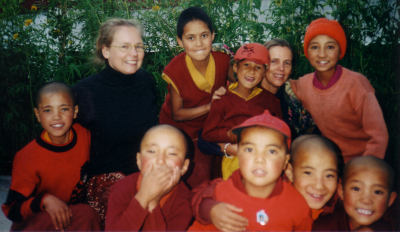 In 2001 two buddhists from Germany went to visit, Elizabeth Pankhurst (Jayaprabha) and Marlene Eltschig (Dharmadakini). Marlene had visited the monastry two years before as a photographer and had formed a heart connection with the nuns and the Rinpoche there. At the end of 2001 Markus Hoffmann met Geshe Sonam Palsang along with a nun and a few of the monks in the Tibetan Centre in Mundgod in South India. We were all impressed by the tremendous energy (virya) Geshe Sonam Palsang put into working for the good of the nuns and their nunnery.
A small number of sponsors from Germany and England have been regularly supporting the Monastry since 2001. The Tibetan Centre in Hamburg (www.tibet.de) transfers this money to Ladakh twice a year. Also, 3 parcels of shoes have been sent. The winters in Ladakh are rough and the nuns need good shoes. The regular contributions guarantee the cost of day to day living of the nuns.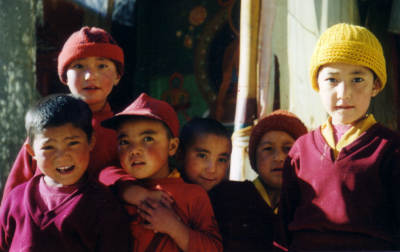 We are ever reliant on new sponsors and bridging funds to meet the gap left by long-standing ones who have to leave. Also small donations are welcome.
For further information on the subject of solidarity and sponsoring - click here.
For photos and report from 2008, taken by John Fraipoint - click here.
History of Wakhah Jangchup Choeling Nunnery
Before 1987, there was a small house for praying on the top of a rocky desert hill. This rocky desert hill is situated in the spring valley of Wakhah. Nuns of this prayer-house came to pray only during the special days in the Buddhist calendar.
During the rest of the other days, only one nun used to light the butter lamps and offer water each morning and evening.
At this time all other nuns of this Buddhist temple were staying with their own family members and practicing the daily routine of the family members. They worked in the fields, looked after the cattle and went with the animals to the grazing ground. This meant these nuns didn't have any proper time for praying and studying. They had such a difficult life that no other people in the world can bear. These despairing nuns and parents had great desires to practice the Buddhist philosphy from the depths of their hearts.
Luckily in 1987 Geshe Sonam Palzang and his friend came from South India to Ladakh asking for donations for his own monastery in South India. When he arrived at Wakhah Mulbekh, his heart was filled with mercy and compassion for these poor nuns and the local people. So he decided to help these despairing nuns until they could stand on their own feet.
Geshe La was advised by the 14th Dalai Lama of Tibet in 1987 in Leh to look after the poor people and animals. So he responded by putting His Holinesse's advice into practical work.
After this Geshe La became a permanent teacher on the rocky desert praying house on the hill. Gradually he carried out very hard work with his nuns step by step and made the prayer house perfect by painting thangkas on the walls and putting very expensive old statues inside it.
Secondly without shame he begged with his two hands to the worldly people to donate for constructing rooms for the nuns. After he had finished his construction, he gave all the nuns the opportunity to leave their family members to start a new life practising and studying Buddhist philosophy.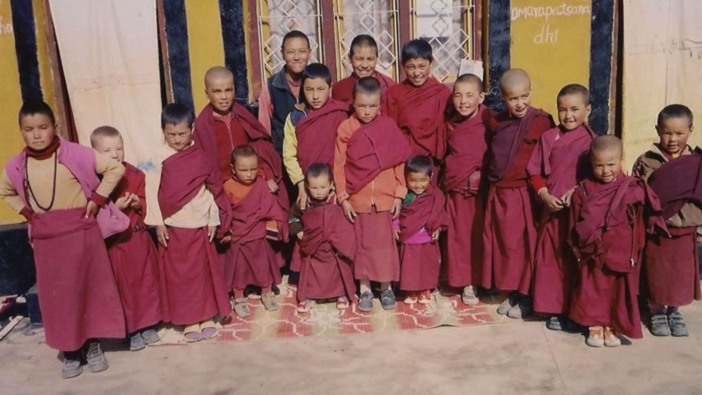 We all know that without books we can´t do any study. So he opened a small library for nuns and purchased all the Buddhist religious books from Dharamsala. And also he planted around 6000 trees on the rocky desert hill and turned it into a wonderful garden hill. The small praying house changed into a big nunnery called Jangchup Choeling nunnery. This name is given by the 14th Dalai Lama of Tibet.
Fourthly he made one Tara temple and a prayer wheel near the gate of the nunnery. Now he was thinking of planning to construct an insulated room for the nuns in order to keep them warm during the 5 months hard life at winter. But, due to financial problems he can´t start the work.
Before 1987 there was 7 nuns and now there are 45 nuns. The nunnery is facing big problems of wood and food during winter time. Everything is done on donation and sponsorship money.